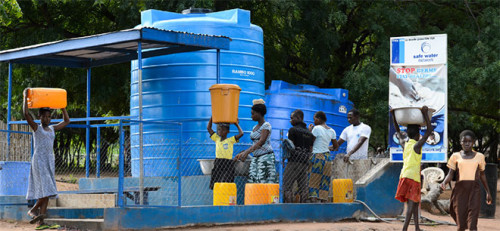 calendar February Tue, 2015
BG International, an American-based development firm, in collaboration with Safe Water Network, has commissioned a Safe Water Station at Yawkwei in the Ashanti region.
The safe water station is expected to serve over 12,000 people in four villages in the Ashanti region.
The station pumps raw water from existing boreholes and treats it through chlorination to meet World Health Organization's (WHO) standards.
The treated water from the station is sold at an affordable rate of GH₵0.15p/40Litres, and delivered to customers through standpipes, remote water kiosks and in bulk through tricycles using narrow-mouthed 20-litre jerry cans.
Dr. Bernice Adiku Heloo, Deputy Minister for Environment, Science, Technology & Innovation, who was speaking at the commissioning, said water plays a very important role in our everyday lives and its contribution to sanitation cannot be overemphasized.
She said the Ministry of Environment had collaborated with the Ministry of Water Resources, Works and Housing to address the numerous challenges faced by the people.
Adiku Heloo said water is life and therefore any attempt to provide water should receive all the necessary support.
She said government alone cannot provide some of these basic amenities and therefore called on philanthropic individuals and other corporate bodies to offer assistance.
Adiku Heloo commended BGI and Safe Water for the kind gesture.
She pledged government's commitment in partnering institutions like BGI, Safe water and others, to introduce innovations in the provision of essential amenities for the people within Public Private Partnership (PPP) framework.
Oheneba Adusei Poku, Akyimpenhene, who represented Otumfuo Osei Tutu II at function, assured BGI & Safewater International of the support of Asanteman in their efforts to bring relief to communities in the region.
Read Article on Daily Guide website ~ click here.