BGI & Safe Water Network — Scaling Sustainable & Locally-Owned Safe Water in Ghana
OUR SHARED MISSION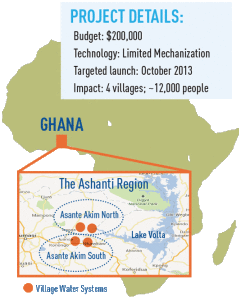 BGI and Safe Water Network are committed to implementing sustainable and locally-owned water solutions that improve the health and livelihoods of communities and can be broadly replicated throughout Ghana. This partnership is based on the belief that this challenging mission cannot be solved alone, and truly scalable impact can only be achieved by collaborating across sectors and industries.
"Together we are solving the challenges to sustainability and refining our model so that access to safe, affordable water will be a reality for millions throughout Ghana. Partners like BGI make achieving this mission a possibility."

~ Charles Nimako, Director, Africa Initiatives Safe Water Network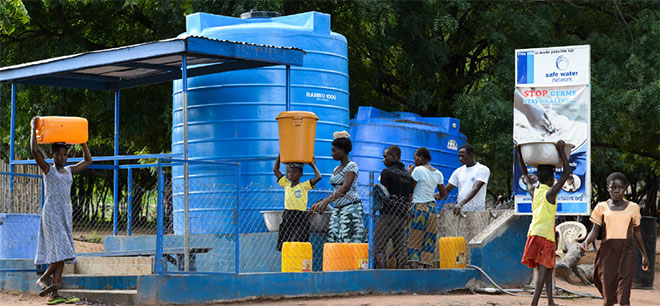 Our program develops the local capacities needed to manage and maintain a water system. This includes streamlining management, governance, and oversight; ensuring adequate maintenance reserves from cash flows; developing and integrating training and capacity development systems; and introducing targeted performance-based incentives.
OUR TIMELINE
COMMITMENT
BGI and Safe Water Network join forces to address one of Ghana's most pressing issues: the millions of people without access to safe and affordable drinking water.
MAY 2013

PLANNING
With support from Ghana's Community Water and Sanitation Agency, we reviewed and identified key villages where households faced significant water and health challenges.
JUNE 2013

PHASE I:
Launch Launch water systems in Asante Akim North and South districts providing access to ~12,000 people in four villages and surrounding communities through a piped network.
OCTOBER 2013

PHASE II:
Expand Additional water systems in Asante Akim districts and expand to Sekyere Afram Plains district with Modular Slow Sand Filtration technology reaching ~40,000 people around Lake Volta.
2014

SAFE WATER NETWORK GHANA
Safe Water Network set out in 2009 to prove that locally-owned water systems could provide safe, affordable water to people without access in Ghana. With the help of partners from the public and private sector, we advance promising models that will be sustained over time and achieve lasting impact on human development. Our field experience has provided lessons learned which are being incorporated into our 2013 expansion sites and shared with others for broad-scale replication.
GHANA SNAPSHOT
80% of all disease in Ghana is caused by unsafe water.
3,000 children die annually from water-related illness.
Despite millions of dollars spent addressing Ghana's water crisis, nearly half of all rural water systems are inoperable.
Stable government, infrastructure, and active commercial and public sector with a conducive enabling environment.
UNDERSTANDING THE MARKET
In April 2013, we released our first Ghana Market Review, a comprehensive look at the needs, gaps and viability of off-grid water systems, funded by the Conrad N. Hilton Foundation.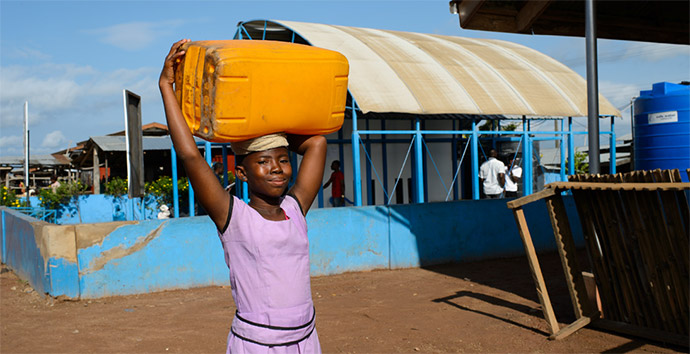 EXPANDING OUR FOOTPRINT
In 2013 we are adding 10 new sites and testing new technologies including modular slow-sand filtration and ultrafiltration. Our focus is on ensuring sustainability by reducing capital and operating expenses, local capacity building and source water management. In each region we are establishing local cluster management units to support the sustainability of systems.
ASSESSING OUR IMPACT
We are working with several organizations to expand successful approaches. We have incorporated findings from a four-year health impact study conducted by Johns Hopkins University to ensure water safety and improve hygiene behavior. Results have shown dramatic improvements.
OUR PARTNERS
We apply expertise from business, government, and nonprofits to advance new approaches and models. In Ghana we are pleased to work with BGI Properties, the Conrad N. Hilton Foundation, Kosmos Energy, Newman's Own Foundation, PepsiCo Foundation and Relief International.
LEARN MORE
Contact us if want to learn more or join-in our Investment in Africa's Future.
Learn More