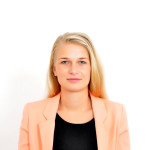 Jen is a resourceful Psychology and Human Resource Management graduate.
After finishing her studies in the UK in 2012 and having visited Ghana several times for voluntary projects, Jen relocated to Accra and started a managerial job in the retail sector.
In her position as operations manager for the French high-end retailer Faconnable her duties ranged from the selection of staff members, tasks in the areas of personnel management, procurement and sales, accountancy, as well as marketing-related work.Besides, Jen managed three further private label stores in existing malls in Accra where she was also responsible for negotiating leases and terms on behalf of her employers.
Jen joined BGI in August 2013 as Leasing Manager, responsible for soliciting prospective tenants for the BGI shopping centers, interfacing with tenants during the lease negotiation and transaction process, assisting management in site selection and development and market research on existing properties and new acquisitions and staying current with trends in the Ghanaian market.